The intense groove of the YOUPI 4tet unveils an ethnic & traveling jazz that encourages the imagination. Born from the encounter between Laurent Maur, chromatic harmonicist and Emilie Calmé, flutist passionate about world music, the duo that became a quartet – with the bassist Ouriel Ellert, and the drummer Curtis Efoua – develops a cinematic jazz that makes you feel the bite of the wind in the Mongolian steppes, the dancer's undulation to the rhythm of the Korean drum, the race to survive in the urban jungle or a moment of meditation in the forest.
No Man's Land is the first album of the YOUPI 4tet, in which we find original compositions by each of the 4 musicians.
"Considered by Alain Jean-Marie as the "best kept secret" of French jazz, Laurent Maur plays the chromatic harmonica virtuoso, and is inspired by Toots Thielemans as well as Charlie Parker and John Coltrane. Emilie Calmé, for her part, studied the bansuri flute and loves to merge jazz and Indian music. Their dialogue within the Youpi 4tet mixes these influences into hypnotic and vigorous music."

TELERAMA

"Born from the encounter of two duets (Laurent Maur/Emilie Calmé and Ouriel Ellert/Curtis Efoua Ela), Youpi 4tet offers us eight originals and one cover (signed Henri Texier). Beautiful melodies, elaborate climates, subtle accompaniments, despite the virtuosity of the soloists and the intelligent ardour of the rhythmic (in a way "not wise to level...) we are in expressive musicality, never in demonstration or chatter... A surprising quartet to see on stage."

BATTEUR MAGAZINE

"What is the Youpi Quartet ? It could be described as a whirlwind of sounds, ideas and influences almost magically linked by this energy that comes from the will to do things right and in a good mood, what they themselves call "kippism". And I, after this concert, I must say that I converted there. "

ACTION JAZZ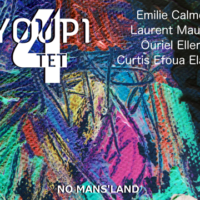 Listening album
No Man's Land
Discography
℗© Youpi 4tet – InOuïe distribution


Laurent Maur : harmonica
Emilie Calmé : flûte traversière, bansuri
Ouriel Ellert : basse
Curtis Efoua Ela : batterie

Le groove intense du Youpi 4tet dévoile un jazz ethnique & voyageur propice à l'imagination. Né de la rencontre entre Laurent Maur, harmoniciste chromatique et Emilie Calmé, flûtiste passionnée de musiques du monde, le duo devenu quartet – avec le bassiste Ouriel Ellert, et le Batteur Curtis Efoua – développe un jazz cinématique qui fait ressentir la morsure du vent dans les steppes mongoles, l'ondulation du danseur au rythme du tambour coréen, la course à la survie dans la jungle urbaine ou un moment de recueillement dans la foret. No Man's Land est le premier album du Youpi 4tet, dans lequel on retrouve des compositions originales de chacun des 4 musiciens.
Laurent Maur

|

harmonica
Emilie Calmé

|

flute, bansuri
Ouriel Ellert

|

bass
Curtis Efoua Ela

|

drums
videos and pictures
Last concerts
17.08.2019|TORUN (Pologne)|Festival Harmonica Bridge|

14.11.2018|LE HAILLAN (33)|L'Entrepôt - 20h30|

27.10.2018|ANTIBES (06)|Festival Jammin'Juan - 14h45|Palais des Congrès - Juan-Les-Pins