Rock
Nobody's Cult
NOBODY'S CULT, a Indie-Rock quartet formed in 2015 and led by the bewitching Lena Woods. Rich in many influences, from the rock of the 60s to today, the band, as its name suggests, undermines the clichés of the genre. Lena' electric harp is the best example of this, as the instrument, passed through a series of effects pedals, gives a unique sound to the whole.
Their first EP "ECHOES FROM THE TEMPLE" was released at the end of 2017, but it is on stage, where they deliver increasingly intense and explosive performances, that their music takes on its full dimension. We have already seen them at New Morning, EMB-Sannois or La Maroquinerie in the first part of Third Eye Blind.
"NOBODY'S CULT shows his penchant for long noisy improvisations where distorted guitars and harps fly away and merge into an atonal deluge, often reserved for song purposes. We love it."

FORCES PARALLELES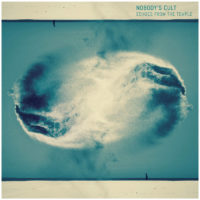 Listening album
Echoes From The Temple
Discography
℗© NOBODY'S CULT


Lena Woods : voix, harpe électrique, choeurs
Vincent Fabert : guitares
Matteo Casati : basse, choeurs
Amine Ouazzani : batterie, percussions
Paul Dussaux : claviers additionnels sur (1), (2), (3) et (5)
Martin Bejuy : lap steel sur (1)

Enregistrement : Studio The Temple – Arthur Dussaux assisté de Paul Dussaux
Mixage et mastering : Rogue Studio – Romain Magnan

Photo & artwork : Maëlle Hénaff

Echoes From The Temple a la carrure de ces disques particuliers qui semblent avoir un nouvel horizon, comme un chemin tracé vers l'entrée du champ des possibles, à nouveau accessible, enfin dégagé. Ces échos pourraient résonner et poser la pierre angulaire d'un temple où bien des fidèles viendront célébrer le grand groupe de ROCK qu'est Nobody's Cult.
Lena Woods

|

voice, electric harp
Vincent Fabert

|

electric guitar
Matteo Casati

|

bass, choirs
Grégory Jacques

|

drums, choirs
Follow the group
videos and pictures
Last concerts
20.01.2019|LARDY (91)|Le Pélican|

19.01.2019|NOGENT-LE ROTROU (28)|L'Arsenal - 21h00|

06.11.2018|AMFREVILLE-LA-MIVOIE (76)|Festival Chant d'Elles - 21h00|Centre culturel Simone Signoret - 2, rue Mendès France

03.11.2018|TROYES (10)|The Message|

02.11.2018|LYON (69)|Le Farmer - 20h30|

01.11.2018|AINAY-LE-CHATEAU (03)|Bistrot Culture - 19h30|