Musical theatre - Young Public
The wind is blowing away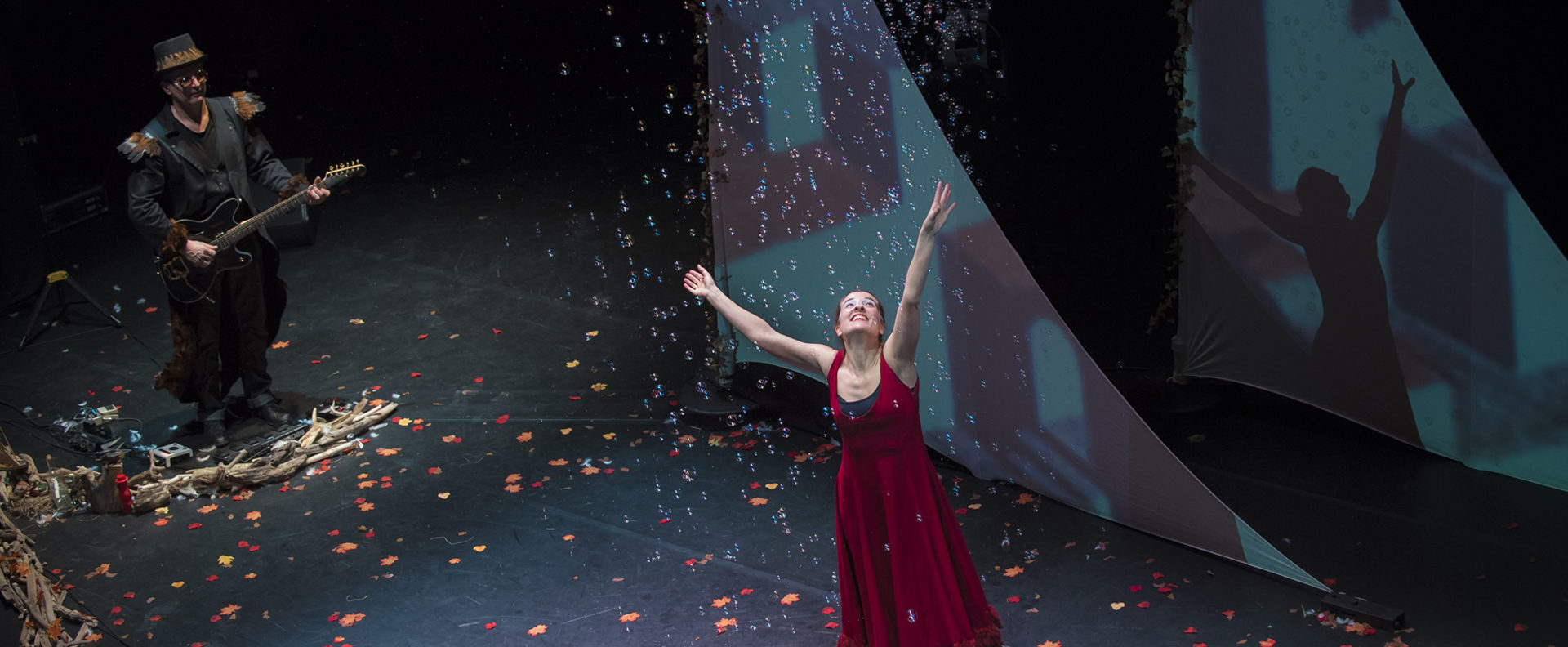 LE VENT S'EN VA is a 2017 creation. 35-minute show. Young public from 3 to 10 years old nursery & primary.

Show with the support of the ECOCERT group (L'îsle Jourdain), the Théâtre De Chimères (Biarritz), the Cinéma de Plaisance du Gers, the Théâtre Spirale (Riscle) and the Théâtre Le Grain à Moudre (Samatan).
Autumn is coming, synonymous with departure. And yet, not a kiss! Not a single gust of wind! So, rather than heading south, our bird would almost get home. Sad and worried about what's not happening.
The wind is blowing away. The cold is not there. We're not leaving anymore. And now, what do we do ?
A migratory bird is a magnificent character to talk about the world as it is. His instinct pushes him elsewhere. We dream it free. He is the one who does not care about borders and administrative contingencies that are low in human terms. Thus we calculate "as the crow flies" the distances such that we fantasize about travelling them !
Yet human activity is intense enough to upset this long-distance traveller. The climatic upheavals, the first fruits of which cannot be seen to disturb what the succession of generations had patiently built, this spontaneous and extraordinary capacity to cross countries, even continents, to escape the cold.
We invite children to become birds, guided by the two characters of our story : a migratory bird (a sparkling southern swallow) and a sedentary bird (a quiet and homely owl). With them, the children will blow this new wind that will allow them to fly away ! Because we will have to find the solutions. Ideas that will also help to take off the imagination…
Our scenery combines the sea and the forest. Between the sails of a boat stranded on the dune, between dead leaves and driftwood, theatre and dance intersect. The guitar and singing punctuate our tale. As a small breath of extra madness, video mapping and sound sensor technology are added to these fundamental elements. Hidden in the setting, they bring with small touches the magic and poetry that spice up this story of humanity and generosity.
"Their show embraces the dreamlike universe of wind and birds. The visual projections, the inventive sound games, and the interaction with the children also give it a playful dimension that has charmed young and old alike. A magical moment !"

LA DEPECHE
Beatriz Salmeron-Martin

|

tale, voice, dance
Jeff Manuel

|

guitar, programmation
Frédéric Bears

|

lighting, video mapping
Frédéric Paquet

|

staging
Eric Paquet

|

design of automation systems
Follow the group